We've already seen the Nike+ FuelBand and the Jawbone Up, and a handful of competitive clone fitness bands are already on the market. So over the past year, it's only grown more strange that we haven't seen FitBit–maybe the name in fitness tracking devices–make a sporty rubber band of their own.
Well, that day has now come. The FitBit Flex is essentially a FitBit that fits on your wrist. Designed by NewDealDesign, it's an LED-laden piece of tech that tracks steps, calories burned, and even quality of sleep along with an alarm–everything the old FitBits did–plus it syncs to iOS and Android devices over Bluetooth. But truth be told, Flex doesn't just sound familiar, it sounds wholly unoriginal. That is, until you look a bit closer at the finer design details.
For one, the Flex doesn't just feature Bluetooth, it features Bluetooth 4.0. This standard uses far less power than 3.0, which makes it suitable for 24/7, automatic syncing with connected devices and apps. I have little doubt that from a UX perspective, the need to physically sync will be the biggest difference between the fitness devices of last year and those five years from now. On the FuelBand, you need to hold a button to accomplish the task. On an Up, you have to physically plug the band in. But the Flex's passive syncing is a tiny technological detail that makes fitness tracking as painless as it's meant to be.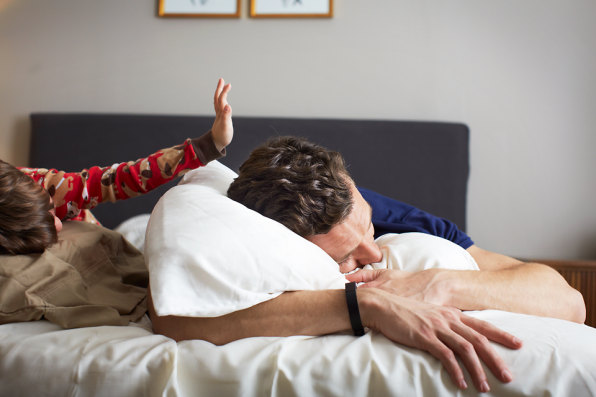 The band itself is also noteworthy. Notice that the electronics aren't integrated with the band itself, meaning that while every other fitness band comes in small, medium, and large (sizes that mean nothing to most wrists), the Flex is every bit as adjustable as a watch. No doubt, this is also part of the Flex's planned monetization model. The core electronic pebble can be inserted into other bands–colors like slate and teal–to differentiate your daily look. At the same time, there's a functional advantage here as well: Whereas many of us need to clip the FuelBand to our shoe while biking or find other creative ways to use a wristband when a wristband just won't get the job done, the Flex could theoretically fit inside other sport-cessories. I imagine a Flex sweatband or maybe a special, super-rugged armband for diving. Whereas most cyclists curse the FuelBand's name, the Flex could easily embrace such a community and market.
The FitBit Flex runs $100. It's available for pre-order now to ship in spring 2013.