Settling into a new home is a daunting proposition, and it can take some time to get comfortable in the new digs. Of course, it certainly helps if that new home has been built with your specifications in mind. Tokyo-based Hiroyuki Shinozaki Architects designed House H especially for a young couple and their small child looking to set down roots in Chiba, a residential prefecture on the outskirts of Japan's capital city. "We put a lot of importance on the structure of architecture," the firm's Sota Matsuura tells Co.Design. "We hope the family has a relationship with the structure of the house in their daily lives."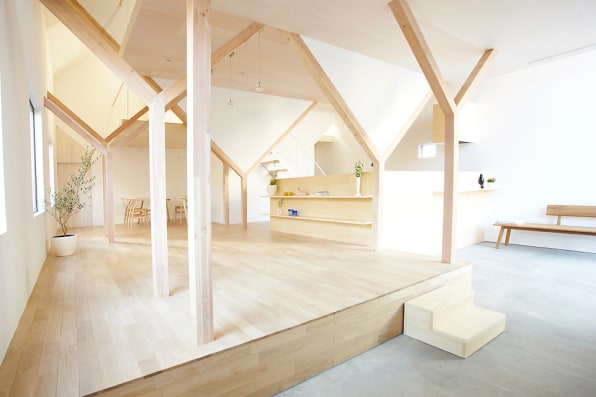 As such, the iterative, almost year-long design process resulted in some interesting evolutions of the home's interior form. "At first we imagined an old Japanese-style house: one big roof, roof truss, bare wooden frame, and so on," Matsuura says. "We searched the idea that people could feel the structure from anywhere inside." The distinctive "Y" beams came along later in the project, providing a subtle visual symmetry to the home; in addition, six levels of floorboards separate the space with somewhat unconventional divisions, allowing for both incredibly high ceilings in some rooms and smaller, loft-like niches in others. From the exterior, an angular, window-clad peekaboo around the entry door is a striking counterpoint to the crisp white expanse of the surrounding wall.
Construction took about six months, during which assembling those "unusual" uppercase Ys provided the biggest challenge. In the end, however, the resulting home was worth any and all tribulations encountered along the way. "The clients seemed to have fun," Matsuura says of their involvement–precisely the spirit with which to kickstart the future in a brand new, simply beautiful abode.
(H/t Spoon & Tamago)