When I first heard of Ray, an ergonomic school furniture gaining popularity in Scandinavia, I wrongly assumed its name was a tribute to the fabled Eames of the same name. Simon Dennehy, the Irish industrial designer who conceived of Ray, sets me straight: It's named for the fish, whose long, flexible wings mimic the chair's thin seat.
Ray is Dennehy's brainchild, and the flagship product of his firm, Perch. He designed it while still a student, but the testing and development phase has lasted seven years. It's unusual for a designer to pursue school furniture right off the bat, but Dennehy sees it as a market desperately in need of solutions to the health problems associated with sitting for eight hours a day. "We could have designed an office chair with all the bells and whistles," he says. "But when you strip a chair down to its basic parts, as you do with school furniture, functionality and ergonomics become essential. We think it's important to target that market."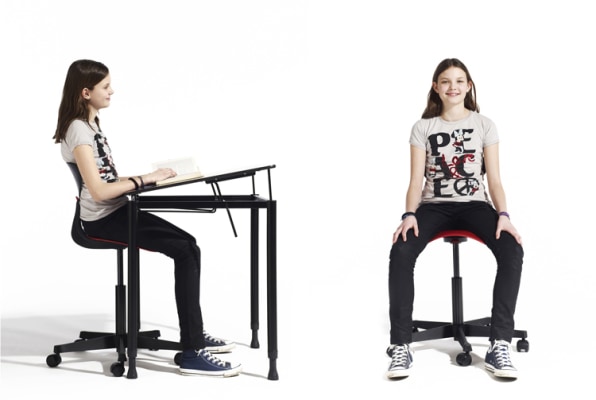 Chairs that encourage movement are old hat but are rarely seen in school settings–as a result, Ray is spreading quickly through schools in Scandinavia, England, and Germany. Though the system is popular with administrators, the initial idea for Ray emerged from a series of tests Dennehy did with a group of schoolkids. He asked them what their perfect school chair would be, receiving a volley of suggestions that included details like under-chair fridges and sofa-esque padding. "A lot of people laughed at those details," he says. "But at the core of it, these kids were uncomfortable."
Ray is based on a patented technology that encourages students to "self support" by engaging their feet and core muscles constantly throughout the day. These micro-movements originate at the seat, which is made of a thin plastic that deforms very easily. Because it's so flexible, sitters open up their legs to balance, as you would on a horse ("saddle seats" do something similar). The pelvis tilts downward and the spinal position neutralizes. This way, kids avoid the dreaded "right angle" sitting position that has been linked to so many health problems as of late. The desk tilts up like a drafting table, getting kids closer to what they're working on (according to Dennehy, the flat angle of standard school desks forces kids to hunch over, forcing the spine into an unnatural position).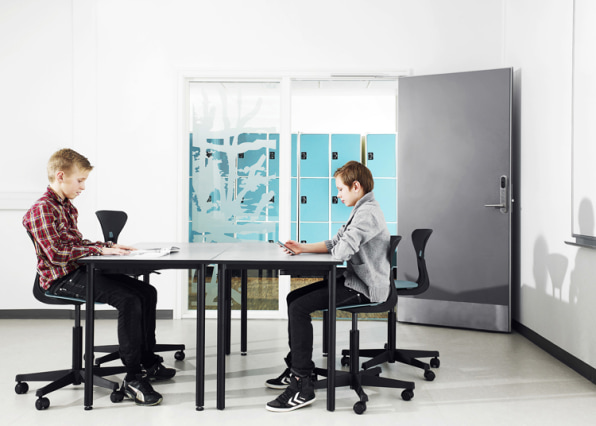 Because Dennehy's system was originally designed for a Scandinavian market (it's produced by Danish company Labofa), it's priced fairly high for American schools. But Perch is working to develop less expensive options, with a mid-range version currently being sold in the U.K. What's really clever about Ray, though, is that it doesn't require any of the bells and whistles (read: hydraulics) of other dynamic seating systems, so making it less expensive shouldn't be difficult. Either way, it'll be a lot cheaper than buying every school kid in America a treadmill desk.