The Street View feature of Google Maps is incredibly cool, but it limits your on-the-ground surveying to a single moment in time. It doesn't immerse you in the world so much as give you a rectangular frame to view it through. There is a simple, crude trick to get around this: clicking the "move forward" arrow like a maniac a bunch of times gives you a rough, halting approximation of what it actually feels like to move through that space. Hyperlapse, a neat web app, essentially does all that clicking for you, compressing stretches of Street View frames into stunning time-lapse mini-movies.
The results will look familiar to most–the short clips are similar to those epic time-lapse videos of rolling clouds and setting suns we've been watching for years on Vimeo. But what's amazing about Hyperlapse is how it lets you create those types of videos instantly, for any stretch of road in the world, all while you're sitting at home in your underpants.
The site, which features a handful of excellent, pre-selected examples in addition to letting users pick their own Hyperlapse destinations, was created by Teehan+Lax, a digital design studio in Toronto whose clients include Medium, the new site from Twitter founders Evan Williams and Biz Stone, among others. It started as a pet project. Jonas Naimark, a graphics artist with the studio, wanted to make his own time-lapse video, but he suspected he might be able to use existing images instead of having to go through the trouble of capturing his own. Some of his colleagues gamely started hacking together software to let him pull images from Street View and quickly realized it wouldn't take much more work to let anyone use the tool themselves.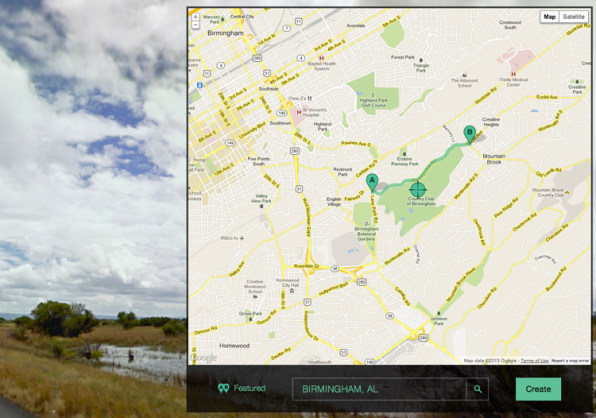 "These videos typically require the photographer to find a focal point, like a landmark, and plot the camera's movement to get the shots," says Jon Lax, one of the studio's founders. That careful planning often results in truly jaw-dropping work. But Hyperlapse can yield some pretty amazing results, too–especially considering how little legwork it requires. As Lax says, "I love that Jonas can make a movie that would be cost-prohibitive in the real world, but totally possible with technology."
[IMAGE: Route 66 via Shutterstock]