To-do lists always work for me for about a day or two. And then I inevitably miss something. Maybe it's laziness, or maybe it's just due to a factor out of my control. But then I miss something again…and again. Suddenly, that list induces panic. It convinces me that my productivity is a sham and that my word to myself is a lie. Who am I??
Any.DO is a free iPhone/Android app that, aside from its beautiful typography work and simple gestures, acknowledges that the things we plan to do often require flexibility as to when they'll be done.
The best trick of Any.DO is that, while you can set an exact time and date you'd like to have a meeting or go to an appointment, the basic entry point is a vague to-do list. The categories start as Today, Tomorrow, Upcoming and my personal favorite, Someday. You can add an item under any of these umbrellas and leave it at that.
Or you can add other criteria to that item, like a time so that it goes on your schedule, or a location, so you're reminded to do something when you arrive or leave a specific place. Or you can modify the item even further, by making it red (urgent!), adding it to a folder, making an additional note, or sharing it with a friend. And by turning your phone into landscape, the to-do list even transforms into a full blown calendar app.
The brilliance here is that each step of the UI delves a bit deeper into your own need for customization, so that the app works casually as well as it does for a power user.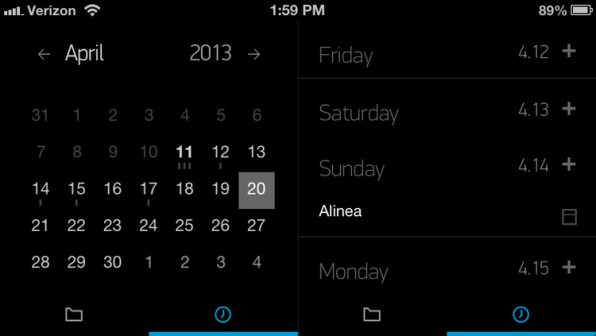 Even still, there's a twist. In the latest iteration of Any.DO, the app now has a feature called Any.DO Moment. You can schedule this moment for any time during your day, and when it starts, your schedule is transformed into a spa-like experience. Words float and fade in, and a subtle soundtrack lowers your cortisol. Each item is presented alongside the option to either keep it on the schedule, or delay it by a little or a lot.
Is it cheesy? Maybe a tad. But there's also not an ounce of guilt in the experience. And by the time you're done, your schedule won't be a mere pile of things you wish you'd get done, but a far more realistic list of things you'll probably get done.
Any.DO is out now, and available for free download.