"The guy is a beast, he has no fat on his body–he's like Dolph Lundgren from Rocky IV! His presence is totally unlike any other surfer. It was like meeting a professional basketball or football player. Because of this, we decided to compare him to other world class athletes and animals, etc."
That's Matt Titone from ITAL/C. And when he had a chance to photograph professional surfer Owen Wright, he didn't want to go the traditional "surf porn" route. So instead of capturing Wright cutting through gnarly waves–do surfers still say "gnarly"?–Titone and his partner Ron Thompson focused on Wright's beyond-Herculean physique. They created a video and an interactive site called Anatomy of Owen Wright. It's a Vitruvian Man for the modern age, highlighting a demigod with the stature of Dwyane Wade and a wingspan bigger than Michael Phelps.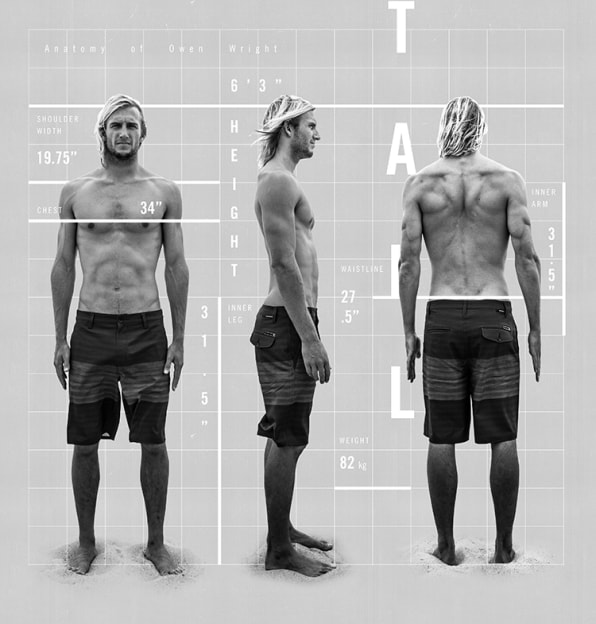 "We kept referring to it as an anatomy lesson from a high school or college science teacher. It had to have that matter-of-fact quality, but still be warm and endearing," Titone explains. "A reference that we held in high regard throughout the process was the Eames Powers of Ten video. It is so scientific and informative, but also approachable and very entertaining."
And they nailed it. Somewhat nostalgic, somewhat idyllic, somewhat scientific, Anatomy of Owen Wright is a charming and informative celebration of the human form. Or at least one human's form. In fact, the more I study Wright, the more I'm convinced that he can't be a real homosapien. Because that torso is just unfair.
If you'd like to see more projects/torsos like this one, you can support a related Kickstarter campaign here.