Ninety years ago, avant-garde architects were designing houses with modular spaces that echoed the efficiency of planes and cars. Today, we have automated planes (military drones) and, soon, driverless cars. Isn't it time, then, for our homes to be just as technologically ambitious?
The Soleta House, or Soleta zeroEnergy One, is a step in the right direction. This prototype line of eco homes includes multifunctional structures with high-tech, clean-energy systems that can be controlled via your smartphone.
The project, currently on display outside the American embassy in Bucharest, was developed by the Justin Capra Foundation for Invention and Sustainable Technologies (FITS). The goal was to design and build a zero-energy shed that could be used as a house, studio, or office in various climates. It also had to be affordable and versatile, with low-maintenance costs and a "positive eco-impact," the company says in a statement. Naturally, it had to be good architecture, too.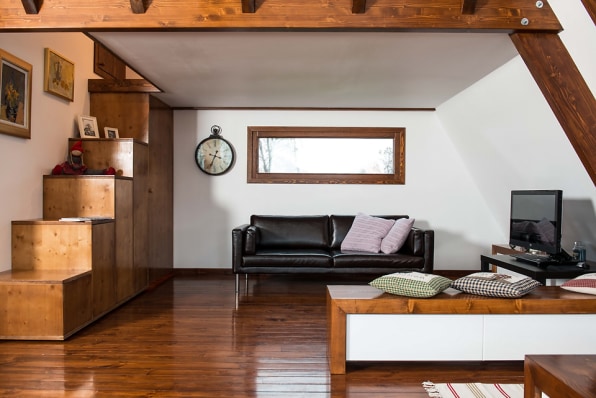 FITS laments how many "low-energy" housing prototypes maximize performance at the discomfort of their occupants and the quality of spaces. The Soleta House was designed to counteract this trend. Its architecture employs an expansive palette of natural and renewable materials that give the house a pleasing, cottage-like aesthetic. It uses high-performance insulated glass to create airy, light-filled living spaces while still retaining thermal loads. Partitions are eliminated inside in favor of a quasi-open plan that subtly delineates one "room" from another.
Nearly every sustainable feature imaginable was embedded in the house, including solar heat, rainwater collectors, in-floor heating, "natural" and "forced" ventilation systems, LED lighting, and high-efficient fixtures. A totalizing climatic conditioning system (KNX) closely monitors the house's ventilation and energy at all times; when used optimally, KNX can cut energy use by up to 45%. Best, it's easy to control: You can use your smartphone to calibrate the interior environment to your exact specifications. Finally, there's an app for that.