The iron lady is now a chic one. In perhaps the first experiment to combine couture and geology, product designer Jolan Van Der Wiel and fashion designer Iris van Herpen have created a line of dresses grown from magnets. Part of the Wilderness Embodied collection in van Herpen's Autumn 2013 show in Paris, these silver-gray pieces look like moonscapes. One encases the body like a spiny metallic ribcage; another is armadillo avant-garde with a more rounded cut.
"I was interested in making invisible forces visible," Van Der Wiel tells Co.Design about his attraction to magnets.
To make the dresses, the designers added a mixture of iron fillings and resin to fabric, then used magnets to pull the substance into a strange texture of spikes and filaments. It took three weeks for each garment to grow.
"Nature was the source of inspiration," says Van Der Wiel. "We applied mother-of-pearl elements to the dresses, which triggered the same brilliance you find in shells." In addition to the wonder of the natural world, Van Herpen cites David Altmejd's sculptures as influences–conglomerates of werewolf heads and crystals, taxidermied animals and junk jewelry. "The dresses' very forms are generated by the phenomenon of attraction and repulsion," says van Herpen on her website. These sculptural forms attract awe, and possibly paperclips, too.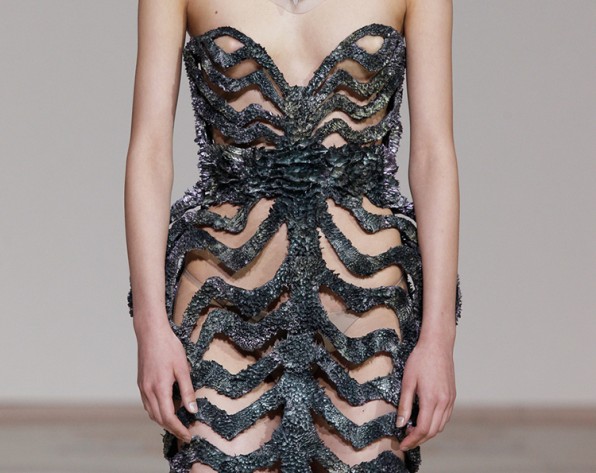 Van Herpen is, after all, the wildly innovative Dutch designer behind many of Bjork's otherworldly outfits, including the brown and gold ribbon dress seen on the cover of Biophilia. Lady Gaga and Daphne Guinness are devotees.
Before approaching van Herpen about collaborating on a fashion line, Amsterdam-based Van Der Wiel made stools, candlestick holders, bowls, and sidetables using his magnet-growing technique. In a contraption he calls the "Gravity Tool," iron-filled goop grows upward into miniature stalagmites that form parts of the furniture. Van Der Wiel tells Co.Design that the challenge in this new fashion venture was finding a way to incorporate magnetism into flexible textiles. Ultimately, he found a material that was "soft and cuddly, though quite heavy."
Van Der Wiel appears infinitely attracted to magnet design: "The magnetic investigation will go on for a while, I think. There is so much possibility," he says. "I'm just at the beginning." Next up could be "architecture, interior design. We will see."