The 45-story Torre David office tower in Caracas, Venezuela, was nearly complete in the early 1990s when a pair of events changed the building's trajectory forever: First, the project's developer, David Brillembourg, died in 1993. Then, the next year, Venezuela's economy cratered. Torre David, about 90% finished at the time, was abandoned–as both a project and a property. Electrical infrastructure had not yet been installed. The lower stories were still missing finished flooring, sewage pipes, and paint. Large slabs of marble meant for a luxury hotel on the first six floors had been carted into the building but never installed.
Looters, not surprisingly, picked over the remains. Then came the families: More than 750 of them who moved in anyway over the years, occupying the skeletal office tower like a kind of vertical slum. The world's resourceful poor have for years manufactured makeshift communities on the edges of mega-cities. But this was a notably different model, a one-time high-end high-rise turning the sprawling shantytown on its ear. After all, why should such a formidable structure, designed by Venezuelan architect Enrique Gómez, sit vacant? If a luxury hotel won't move in, why can't the poor?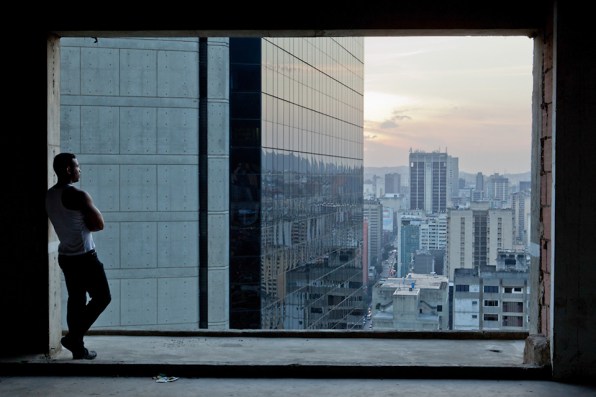 Architects Hubert Klumpner and Alfredo Brillembourg (no direct relation to Torre David's late developer) were drawn to the building as a living laboratory for how the world's poor are constructing informal communities wherever they can. The sustainable cities of the future, they believe, can't be built–or built out–from scratch; sustainable urbanism will require retrofitting and reimagining existing infrastructure, just as these families in Caracas have done. Throughout the world, the architects argue, "the new will be built on or in the old."
Along with their design studio, Urban-Think Tank, Klumpner and Brillembourg spent a year and a half researching Torre David, interviewing its residents, attending community meetings, studying and photographing the building itself to develop ideas for retrofits that would improve the lives of the people living in legal limbo there. An exhibition of their research at the Venice Biennale over the summer won the event's prestigious Golden Lion prize. And now the study has been reformatted into a book, Torre David: Informal Vertical Communities, just released in Europe and coming out in a few weeks stateside. Although the project narrates the life of one vertical slum, Torre David, the authors say, is "a book inherently about plural communities, not just one."
With the project, Klumpner and Brillembourg are calling more broadly for architects to embrace the challenges of places like these, to envision the future of dense, urban spaces by collaborating as much with slum-dwellers as the profession's more traditional clientele.
"When we graduated school in the mid-'90s and relocated to Caracas, we began to see that it was long past time for architects and designers to become more socially engaged and aware of how politics affect the build environment," Klumpner and Brillembourg wrote in response to questions from Co.Exist. They strive to work, they added, as architects and designers, not politicians. "In a sense, we see our basic architectural and design pursuits as our politics–we believe in basic human rights such as access to safe shelter, health care, and education and believe that designers play a roll in making buildings, public spaces, and infrastructure where these rights exist and flourish."
In Caracas, 60% of the population lives in some kind of informal settlement, with such places covering about 45% of the inhabitable land. The city essentially lives in perpetual housing crisis, and Torre David is a testament to the government's failure to solve it (even as it sends mixed messages to inhabitants of places like Torre David, alternately sanctioning their public utilities but leaving them in fear of eviction). "We are absolutely not in favor of squatting," the architects write, "but we also recognize it as a legitimate reaction to systemic housing failures."
As a result, they say, architects and designers have an obligation to improve the lives of squatters worldwide, which will in turn, they argue, improve the lives of cities as a whole. Viewed this way, Torre David is a story of savvy reinvention over wasted resources. The building was not necessarily completed by its unintended inhabitants. You can see in the images of the tower that its wiring is still exposed and many of its windows–even walls–still missing. But parts of its interior have become a playground, a store, a space for hanging laundry. There is, perhaps, a workable future between these spaces.
"It's not about prioritizing one class over another or working to progress a specific ideology–we simply believe that our work should make cities better for the people who live in them," Klumpner and Brillembourg write. "Within certain circles of architecture, that might sound 'revolutionary' but we think it's just logical. Hence our non-ideological slogan for change: 'Viva la revolución de diseño!'"
Long live the design revolution.