In San Francisco, you can't walk five blocks without bumping into a farmer's market or boutique grocery. Take a quick trip over the Bay Bridge to Oakland, though, and you'll be confronted with areas that lack any sort of access to fresh food. So-called food deserts are a common problem in communities throughout the U.S., but in the neighborhood of West Oakland, one local organization is banking on the community to alleviate the problem by funding a startup grocery store.
The vision for the for-profit People's Community Market sprung out of a decade's worth of community food activism from People's Grocery, a nonprofit organization that in the past has launched projects like the Mobile Market, a fresh food truck that drove around the neighborhood, and the Grub Box, a local community-supported agriculture box for residents. Despite the success of these initiatives, they weren't enough to fulfill the food needs of West Oakland, which sees 70% of grocery expenditures from residents each year (about $40 million) going to other cities. A lack of fresh food also contributes to the 48% of residents that are obese or overweight.
"The feedback from the community was continuing to affirm that, while smaller projects were important, they weren't adequate for servicing needs," explains Brahm Ahmadi, the founder and CEO of People's Community Market and the former executive director of People's Grocery.
So Ahmadi and the board of People's Grocery decided to build a full-fledged grocery store that's tailored to the community. That means that the 15,000-square-foot store will be tinier than many grocery stores–transactions are generally smaller than in suburban areas because people have less money to spend (meaning they make smaller purchases more often) and they come via public transportation or on foot so they can't carry loads of groceries. When it opens (Ahmadi has his eye on a site, but can't secure anything until the store has funding) People's Community Market will carry just 40% of the inventory of traditional grocery stores, with a focus on fresh food–produce, seafood, dairy–and quality prepared items.
People's Community Market will also become a community hub, providing a sit-down cafe space, education programs from local nonprofit health partners, and social activities–jazz nights every week, barbecues after Sunday church, sitdown dinners, and customer appreciation events. "West Oakland doesn't have coffee shops or anywhere you can sit down. The community is not only lacking in access to good food, but it's lacking in a variety of goods and services," explains Ahmadi. "The plan is not just to offer a fun, positive space, but a venue that we make available for social supports necessary for people to make progress in becoming healthier."
The grocery store has secured two-thirds of its $3.6 million budget from the California FreshWorks Fund, a collaboration between the California Endowment and a number of partners that aims to bring fresh food to the state's food deserts. But there's a hitch: FreshWorks will only offer up the loan if the grocery can raise the rest of the money ($1.2 million) first. That last chunk of cash will come from the community via a direct public offering–a system where People's Community Market sells shares of the company directly to California residents.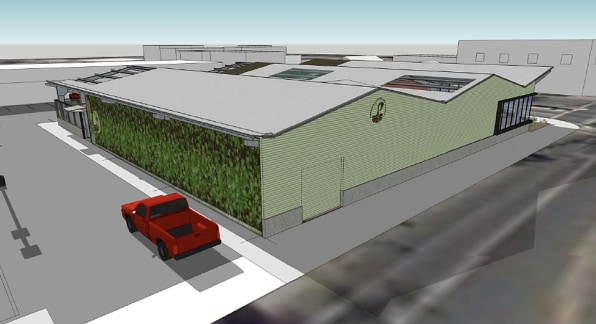 Initially, the startup hoped to raise private capital, but found that a lot of investors weren't attracted to the grocery business–the margins are tight and investments aren't that lucrative. Crowdfunding was considered, but except in rare cases, companies rarely make over a million dollars on sites like Kickstarter and Indiegogo.
"We decided to shift directions to a community investment campaign," says Ahmadi. He stresses that this is "not crowdfunding or donation. It is a real investment."
People's Community Market has already raised $200,000 thanks to the large donor base from People's Grocery. The direct public offering permit from the state is good for a year, so the grocery store has a bit of time to collect the rest of the money. "Our thinking is that if we can make significant progress and show momentum, a number of angel [investors] in a wait-and-see position will come in and help close it out," says Ahmadi.
If People's Community Market can raise the money it needs, the store could be operating by the end of next year. It's not soon enough for West Oakland residents. Says Ahmadi: "They want the store open right away."