We've all seen what happened during Hurricane Katrina, when the African-American poor in New Orleans were hit especially hard by the storm's wrath. But hurricanes don't discriminate based on race or income, as evidenced by this dynamic impact map looking at demographic data of the counties affected the most by Hurricane Sandy.
The map, created by mapping company Esri with data from FEMA, looks at the elderly population, home ownership, median home value, household income, and diversity of the counties along the East Coast that were touched by the hurricane. So were poor, elderly minorities hit the hardest? Not exactly.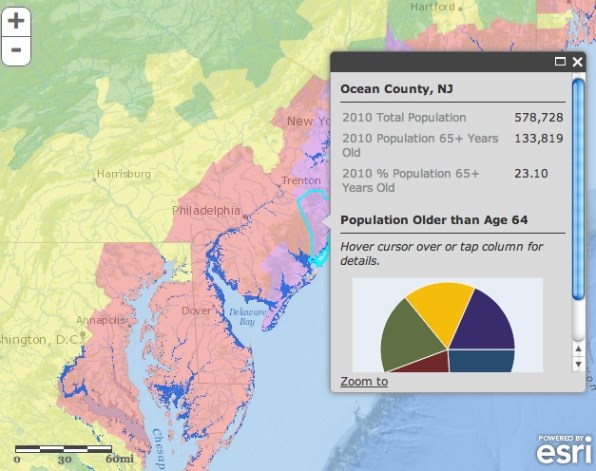 In the U.S., 13.3% of the population is 65 and over. In some of the most affected areas, the elderly make up a larger than average percentage of the population. Ocean County, New Jersey, for example, has 133,819 people over 65 in a population of 578,728 (23%), presumably because a lot of retirees go to live on the beach. But other hard-hit areas are more average age-wise. New York County has just 13% of its population over 65.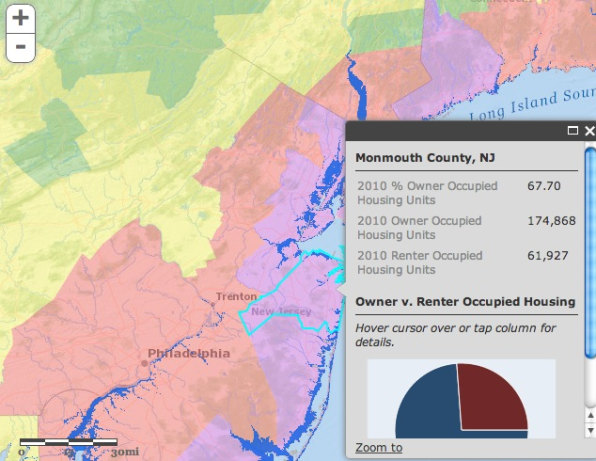 New York is a city of renters, so it's no surprise that just 18.5% of housing stock is owner occupied. Some of that owner-occupied housing was tragically destroyed. But New Jersey took the brunt of the damage. Two heavily damaged oceanside counties–Monmouth County and Ocean County–have home ownership rates of 68% and 67%, respectively.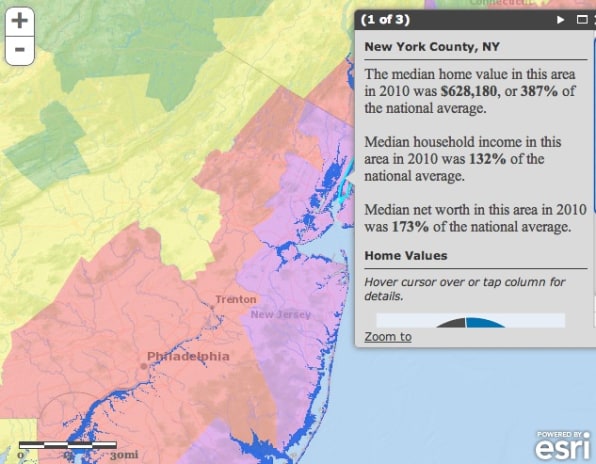 Unlike in Hurricane Katrina, the ocean-exposed areas on the East Coast that were heavily damaged were populated largely by wealthier residents. That's not to say that less well-off areas weren't affected (Breezy Point and Staten Island are both blue-collar areas), but consider this: In Ocean County, median home value ($263,484) is 162% of the national average, median household income is 112% of the national average, and median net worth is 186% of the national average. It's a similar story in Monmouth County, where median home value is 244% of the national average and in Nassau County, New York, where homes have a value of 266% compared to the national average. And in pricey New York County, homes are worth 387% of the national average (that last point doesn't tell the whole story since 21% of New York City lives in poverty).
It should come as no surprise that the dense eastern seaboard has a high degree of ethnic diversity. In New York County, there is a 78.5% chance that two people chosen as random will belong to different races or ethnic groups. In Atlantic County, New Jersey, (home of Atlantic City) there is a 66% chance of that happening.
No, Hurricane Sandy didn't leave all the white, wealthy people untouched. But it did expose underlying inequalities. As The Atlantic points out, people with cars and money could escape, get to hotels, and take a couple days off work to recover. Still, everyone had to face the same grim reality when they returned home. Nobody was prepared for this magnitude of a storm–and that's just one of many reasons why people will be talking about it for a long time to come.