Milwaukee, Wisconsin, is one of the most racially segregated cities in the country. In the predominantly African-American area of Harambee, some residents need to go down a steep foot path and then cross six lanes of traffic (sans traffic light) to reach the Riverworks Center retail area, which is a more caucasian and successful middle-class neighborhood. But local designers have a plan to connect the two areas with a green space that also makes use of some of the difficult-to-dispose-of trash currently sitting on abandoned railroad tracks that literally segregate the city.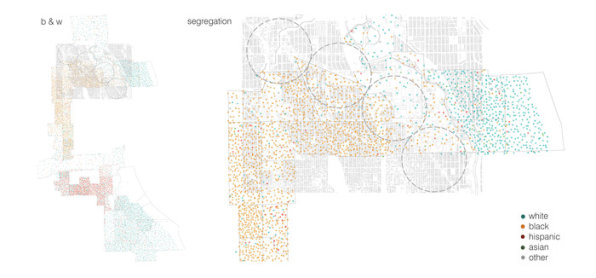 The Artery, a proposed 2.4 mile linear trail connecting the Riverworks Center to Harambee, is the brainchild of designer Keith Hayes and Rob Zdanowski. While still in school at the University of Wisconsin-Milwaukee, Hayes created Beintween, an organization he says is "hoping to connect the dots of cities–leftover spaces and people with leftover time." He soon realized that there was an opportunity to make change in Harambee, which is home to an abandoned rail corridor that today is used as a dumping site for construction debris, auto tires, and old televisions.
And that's where the Artery comes in. The proposed trail would take over the former rail corridor (a la the High Line in New York City, but on the ground) with a trail made out of "matireal," a geo-textile made out of old tires–like the ones currently found on the rail corridor–and gravel. Says Hayes: "The prototype is an 18 inch by four foot reduction of automobile tires set inside a polycarbonate case. We've taken actual gravel from the rail line and backfilled cells." The trail will also house interactive art pieces.
Hayes and Zdanowski need to get permission from the private owner of the abandoned rail corridor to build their trail, but the city has hinted that it has federal dollars to buy the first two-thirds of a mile for the project. The Artery has also been awarded $25,000 in grants from the Youth Council of the City of Milwaukee to engage local youth in building the project, and it's in talks with ArtPlace, a philanthropic organization in Chicago.
If the Artery can raise $10,000 on Kickstarter (it already has nearly $2,000), its creators will be able to devote even more time to research and development. "[Tires] are such an infinite material source that if something positive could come out of them we would have a real catalyst to revitalize the neighborhood," says Hayes. "We're just taking one step in the right direction."