Sometimes it seems like major cities around the world announce big-data-driven initiatives on a daily basis. But what about smaller municipalities? They've been hit just as hard with the down economy and could benefit from data tools that let them track and measure performance. A new startup called Revelstone, which offers web-based analytics software that allows both cities and towns to track their operating performance and benchmark with other local governments, hopes to help.
Revelstone's software, Compass, lets municipalities track key metrics in a variety of areas, including sanitation, police, fire, and road issues. On the police side of things, for example, that might mean tracking the average response time to 911 calls and the percentage of crimes cleared by arrest. "The economy has been ruthless, and the new norm is do more with less. No municipality has the same resources they had in the past. They either cut down or find ways to get more efficient," says Revelstone COO Mark Nelson. "There's a Moneyball effect going on. We need to turn our attention to tracking data and having data-driven discussions."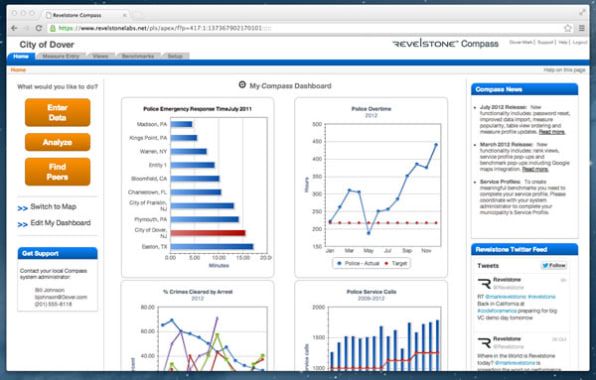 The software helps government officials answer three questions, explains Nelson: how am I doing today, what could I be doing better, and what can I learn from my peers? That last point is important. In addition to providing municipalities with data analyses of their own performance, Compass also spits out the statistics of similar municipalities everywhere.
Each local government fills out a service profile, answering demographic questions about their land area, population density, median household income, attractions (a mall, university, etc.), whether they have a volunteer or paid fire department, the number of times a week they pick up garbage, and other relevant factors. That information is used to create comparisons with other municipalities that have similar demographic profiles. A town might realize they need to step up their game if they rank dead last in their ability to fix potholes quickly and efficiently.
Revelstone recently finished a stint in Code for America's accelerator for civic startups. "We just launched a new dashboard and improved look and feel to the product that came from being able to interact with fantastic user experience folks and designers," says Nelson.
The startup has already signed up over 20 customers since starting last year. Most of the municipalities are in the New Jersey area (where Revelstone is based), including Woodbridge, which is looking at how a recreational center can add revenue to city coffers; and Princeton, which is consolidating from two municipalities into one and is looking at the efficiencies that can be gained by the move.
But the hope is to expand beyond the Garden State. Nelson says the company is now kicking off a more national sales campaign. "We're still at an early stage for seeing an ROI," he says. "Municipalities don't always work as fast as the business sector."