Whenever I happen to be walking near San Francisco's Fisherman's Wharf area–ground zero for tourists–I want to yell at passersby: "Get out of here! There are so many more vibrant parts of the city that you could be visiting." But of course, travel guides don't always provide the best advice and most hotels are clustered in the nearby downtown area. As a result, less central (but often more exciting) neighborhoods miss out on tourist dollars that could keep local businesses thriving. It's a similar story in cities around the world.
If you're an adventurous traveler who wants to stay in a neighborhood that's a bit off the beaten path, you'll probably look at home listings on Airbnb. But up until now, there hasn't been a way to gauge whether staying in a given area makes logistical sense for where you want to visit, or whether the location suits your temperament. Airbnb announced that it's trying to make neighborhoods more accessible with the appropriately named "Airbnb Neighborhoods"–a feature that gives guests access to detailed information about neighborhoods, courtesy of locals.
The feature, which is kicking off with 300 neighborhoods in seven cities (New York, Paris, London, San Francisco, Berlin, Washington DC, Rio de Janeiro), harnesses information from hundreds of conversations with locals–Airbnb went so far as to fly a team of "neighborhood experts" to its headquarters–as well as 40,0000 photographs from well-known street photographers. The result looks something like a picture book for neighborhoods.
Airbnb guests can search neighborhoods by attributes (great transit, peace and quiet, loved by locals, stunning views, etc.), view tags suggested by users (i.e. charming, quaint, artsy), check out local listings, and see where each each neighborhood is in relation to other areas and city landmarks. The company hired its own cartographer to hand-map neighborhoods.
I can't speak to the accuracy of the feature in most of the pilot cities, but I do know San Francisco. And Airbnb is right on the mark in my neighborhood of Bernal Heights, which is off the beaten path for almost all tourists. It highlights the the expansive farmer's market, the breathtaking city views, unique architecture, and dog-friendliness–all things I would talk up with a visitor to the area.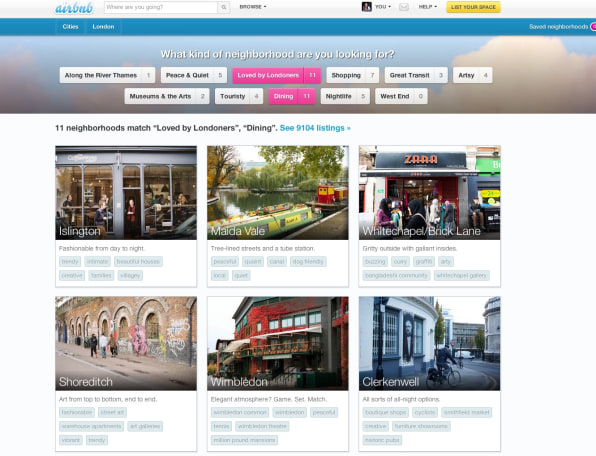 Just in case you still feel disoriented while visiting a neighborhood, Airbnb is partnering with coffee shops–starting in San Francisco–to create Local Lounges, or places where travelers can access free WiFi, local advice, and guidebooks.
Airbnb's Neighborhoods feature makes the site competitive with TripAdvisor, Hipmunk, Frommers, and other sites aiming to provide traveler's tips. But while the service may be bad news for competitors, it's great for neighborhoods that may not be used to hosting tourists.
Airbnb has some serious economic power: according to a recent study from HR&A Advisors, Airbnb guests in San Francisco stay in their accommodations for an average of 5.5 days and spend approximately $1,045 on transportation, shopping, and food. At the same time, 90% of guests visiting San Francisco (and presumably other cities) prefer to stay in areas that are "off the beaten track." Score one for the Bernal Heights's of the world.