For about a decade the words "sustainable" and "skyscraper" have been conjoined in American architecture. And we've actually been building them, not just talking about them.
But up until recently, most sustainable towers have focused on the incredible technology behind the building's mechanical systems. Bells, whistles, sensors, motors: The quest for super efficiency has turned into competitive sport with lots of chest beating from those involved. The result has indeed been green, but it's also produced buildings that can feel oddly inhuman.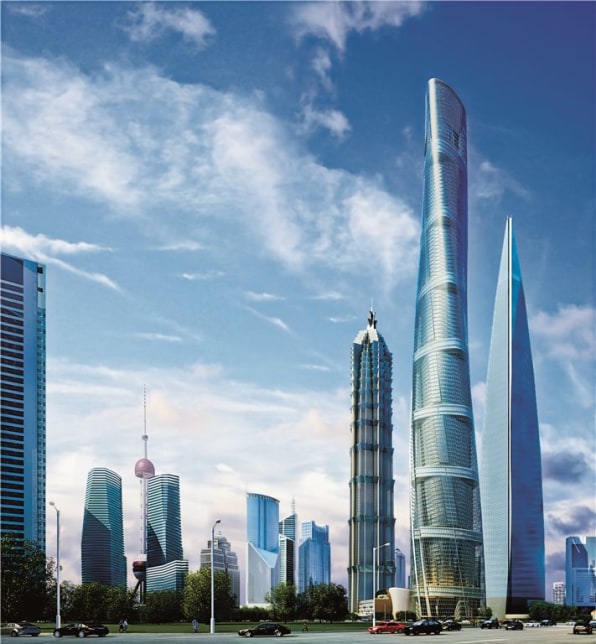 The problem with these more complex buildings is that they can disenfranchise people, leading to a passive relationship between people and their environment. At Gensler, the design firm where I work, we're looking to achieve the opposite. We believe that buildings that engage people in their surroundings mean that people are more invested in–and happy with–their surroundings. We think the definition of what it means to be sustainable in the 21st century needs to be broadened to include a skyscraper's (or any building's) ability to sustain the human spirit as well as its performance goals.
Imagine energy efficient towers whose walls might slide open, allowing office workers to step outside, into the sky, for a breath of fresh air. Towers that have the life of a city pulsing through their long spines (not just elevator banks) giving the people who work there a building that feels alive. Towers where seasonal gardens grow vertically and where friends might meet by a kumquat tree on the 68th floor for a cup of coffee on a beautiful spring day.
Buildings such as Manitoba Hydro Place in Winnipeg, Canada, and the KfW Bank Headquarters in Frankfurt, Germany, have led this next generation of sustainable towers. Gensler is continuing that research and evolution. We're currently in the construction phase on two skyscrapers on opposite sides of the globe whose DNA is all about the interplay between how people inhabit them and how energy-efficient they can be.
Meet Shanghai Tower in China's burgeoning financial capital.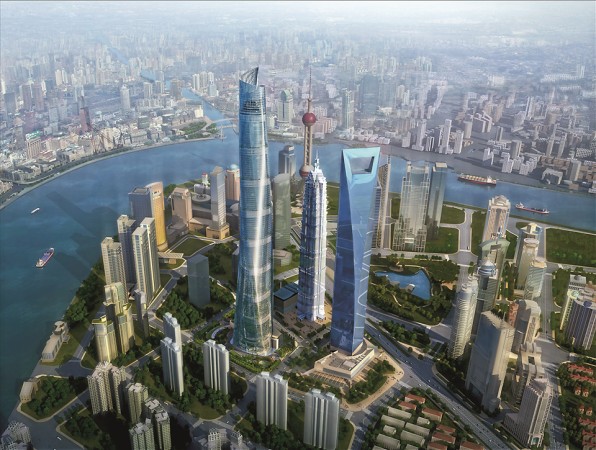 At 632 meters tall and 121 stories, this spiraling glass tower will be the second tallest building in the world when it's topped out in 2015, and by design, the most intimate super-tall building there is.
Along with the tower's high-performance systems (which include a double-skin façade, wind turbines, and a cogeneration system) is a desire to make the 20,000 people who will populate the building on any given workday feel as though they're part of a community, a vertical city.
Gone are the "pancake stacks" of floors that force people into compartments and anonymity. Instead, the building (which includes retail at its base, 71 floors of offices, and hotel and observation space on top) ascends to the sky in a series of neighborhoods that are defined by something not normally seen in super-talls: gardens.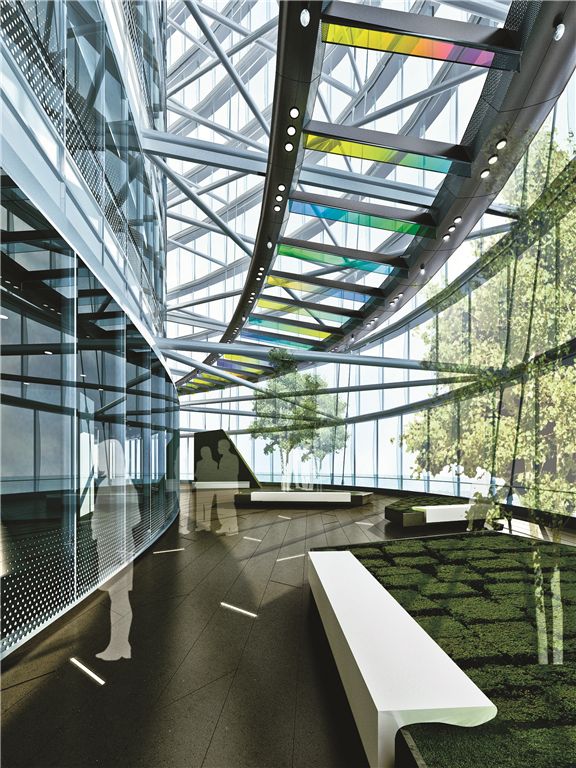 Placed every 12 to 15 floors are "skygardens," light-filled atrium spaces that serve as town squares for occupants of the building. Cafes, restaurants, and small shops will be located here amid lush gardens, each of which will be planted differently, reflecting themes of water, earth, wood, fire, and gold. Because skygardens are open to the public, Shanghai Tower will invite the world into its vertical entirety. This is not just a very tall office building. It's a different way for people–and cities–to experience a skyscraper.
Across the world in America's Rust Belt rises another green skyscraper designed to "elevate" people.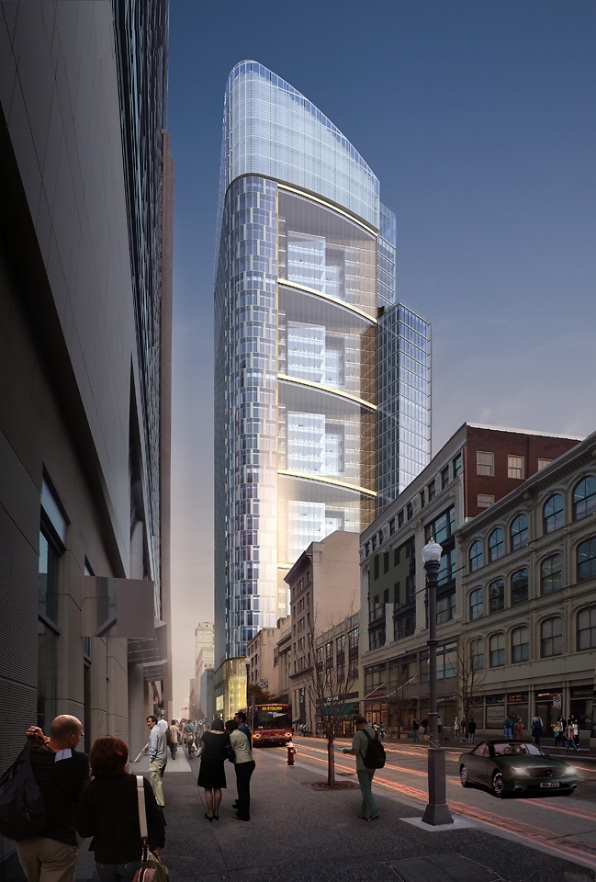 Picture yourself sitting on a park bench with your laptop in your lap, shoes kicked off, and a breeze coming across your face. This is your workplace. This is the feeling we're creating inside PNC's new global headquarters, a 33-story, glass tower in downtown Pittsburgh set to open in 2015.
The people at PNC Financial Services Group clearly, adamantly want a building that drives performance, with all the bells, whistles, and energy efficiency that will entail. But the game-changer here is that they (and particularly Gary Saulson, PNC's executive vice president and director of corporate real estate and a longtime advocate of sustainability) interpret "performance" differently than others. They include that "scene from a park bench" in their definition. Performance includes a building's ability to make employees comfortable and happy and ultimately, hopefully, more productive.
To do that, we gave this building the ability to breathe and the wisdom to know that if you want to make people happy and ultimately more productive, you've got to engage them. You've got to make them active participants in the pursuit of their own personal comfort, something we're achieving by turning HVAC into an experience.
The tower breathes via a complex system of natural ventilation, which we project will sufficiently cool the building 42% of the total yearly working hours in Pittsburgh. In simplistic terms, the system comprises: a double-skin façade; sensors to activate a legion of computer-motorized flaps that open and close on both skins. When the conditions are right, those flaps open, and the building inhales fresh air.
Human engagement kicks in next. From the confines of their workspace, employees will be able to slide open glass doors on the building's second skin–10, 20, even 25 stories up–and feel a cool breeze across their face. A solar chimney is yet another component of the passive HVAC system; it's what enables people to actually feel the breeze. It pulls air through those open windows, which is not what usually happens when a window is open in a high rise. Air normally would get sucked out.
Those unafraid of heights can go a step farther and actually walk out onto a 3-foot-wide ledge suspended between the tower's two skins for an even deeper breath of fresh air, and the experience of walking on sky. All of that human engagement enhances the breathing process and performance of the building. Energy efficiency is linked with comfort and joy.
Completing that link (and another nod to the park bench aesthetic) is the five-story skygarden planned for the building's top floors as a private oasis for employees and guests. Although completely enclosed, it's designed to feel outdoors and will have no mechanical elements and no window blinds. We're discussing including a "sunglass bar."
This new generation of tall buildings proves that skyscrapers are not inherently cold and austere. In fact, they can offer an experience of the natural environment within cities that we just couldn't access without them.