About 40% of all the energy used in the United States is consumed by buildings: lighting them, heating them, cooling them. While we innovate new, clean power sources, it's also important that we build new offices and houses that don't waste energy.
Visions to solve these problems include rolling skyscrapers, zero-energy houses, and totally sustainable soccer stadiums. But besides the important work of reducing energy consumption, we also saw building projects this year that worked on making architecture more humane and better able to serve the people using it.
As the work environment changes, people's houses and offices are starting to combine: What does a new live/work space look like? Can we re-invent the higher-education living experience by building a beautiful dorm that doesn't feel like a prison? Can we make cheap housing for low-income people that doesn't look like we're treating them like second-class citizens?
Take a tour through some of the most exciting buildings of the year:
1: 8 Insane Skyscrapers Of The Future
From buildings sucking water from Himalayan glaciers to round towers that let residents escape from danger, here are 10 ways that architects imagine how the quintessential urban building might look.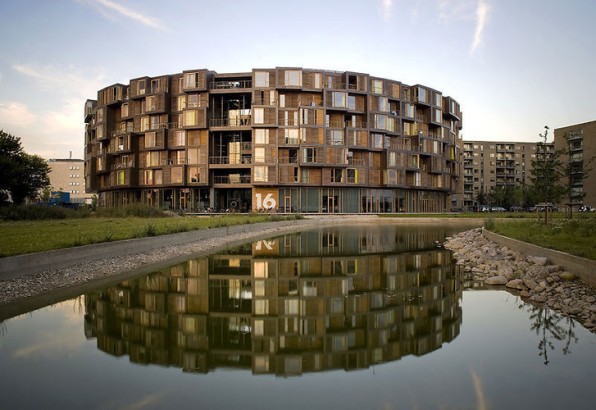 A university in Denmark has created a circular dorm that will make you incredibly frustrated at the tiny double room where you spent your college years. Bet you didn't have french windows, balconies, and a bike workshop.
3: LiveWork: The Future Of Living Where You Work And Working Where You Live
America is changing how it works. As more people start their own entrepreneurial businesses out of their bedrooms, is it time to rethink how we divide work and living? This new home design makes space for both.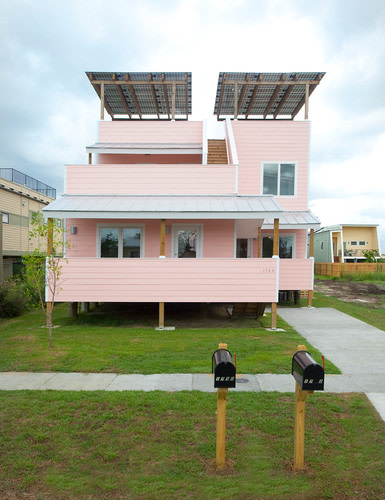 4: Brad Pitt's Make It Right Foundation Completes Its First Frank Gehry-Designed Home In New Orleans
With a $200,000 price tag, the stunning duplex shows that sustainability and affordability can go hand-in-hand, and will hopefully anchor a rebuilt 9th Ward.
The headset manufacturer Plantronics doesn't much care where its employees work, and to prove that, its new offices are outfitted with a cornucopia of features that make telecommuting simple, easy, and encouraged.
6: Floating Housing (And Golf Courses) For Post-Climate-Change Island Paradises
A new resort development in the Maldives (currently sitting five feet above sea level) will be ready if the country starts to go underwater–the whole thing is already floating.
7: Low-Income Housing That Anyone Would Love To Live In
Housing for the poor doesn't need to be horrible. The Richardson apartments in San Francisco are offering up high-class digs in the hopes of helping to lift its residents out of poverty.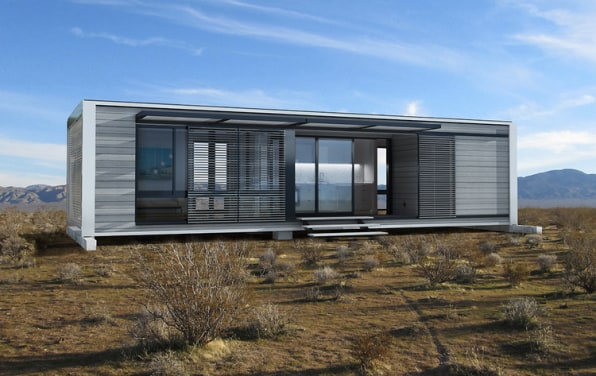 8: These Gorgeous Sustainable Pre-Fab Houses Fit In A Shipping Container
Just because a house is pre-fabricated doesn't mean it's easy to move. But Connect Homes' innovation is to make them fit in shipping containers, so high-end green design can end up anywhere on the planet.
9: A Skyscraper That Scrubs The Air Clean
Sitting above a congested highway, this concept building would use algae to deal with the pollution.
10: A Prefab Vertical Gym For Urban Slums
Gyms provide activities that keep kids off the street. But in the sprawling slums of the developing world, where do you find the space to put one? This new architectural marvel stacks all the amenities you could want.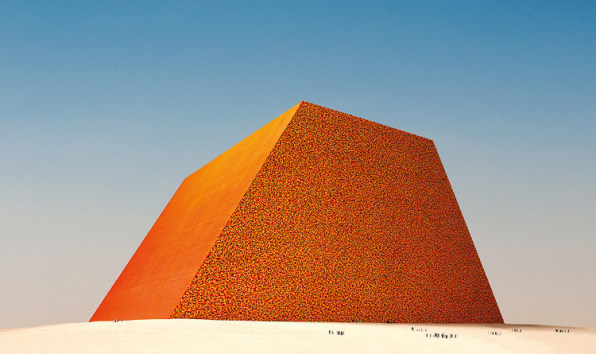 11: The World's Largest Sculpture Will Be A 500-Foot-Tall Pyramid Of 410,000 Oil Barrels
PNC Bank's new global HQ in Pittsburgh is going to be a skyscraper like no other–including the ability to open windows and even take a walk outdoors, no matter what floor you're on.
More 2012 roundups:
Architecture, cities, clean tech, collaborative consumption, design, education, energy, environment, food, health, infographics, photography, responsible business, and transportation.