What makes the perfect place to have a kiss? For some, it's candlelight and two glasses of Chablis overlooking the Seine; for others, it is as simple as a wet, willing mouth on the dance floor of a club. Location doesn't have so much to do with it: any kiss can conceivably be perfect, as long as it's done for the right reasons and with the right person. All you need to do is actually take the chance to steal it.
That's the message behind Italian art collective 0707's new project, "This Is a Good Kiss Spot," which is stickering the world with signs encouraging people to take the time out to not only smooch, but also to think about what a good kiss means.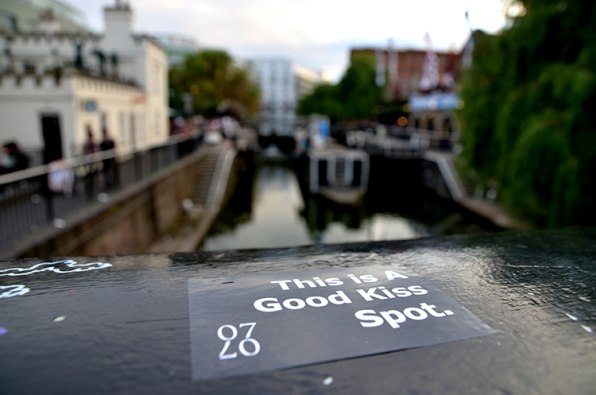 The project started earlier this year when Danielle Pacifici of 0707 decided that she wanted to do something more positive with guerilla art. "Nowadays, everyone is so worried about work and money that I felt people have lost sight of this little center of themselves," Pacifici tells Co.Design. "I wanted to remind people that pausing to kiss your wife, your child, or your partner is a moment of your life that should be collected and remembered forever."
In the beginning, it was just Pacifici and fellow 0707 cohorts traveling the world slapping the eponymous black stickers in places and taking pictures. "But the more people see them," Pacifici says, "the more they want to be part of it themselves." The stickers are now in cities from Milan, Paris, and New York, to Sydney, London, and Taiwan.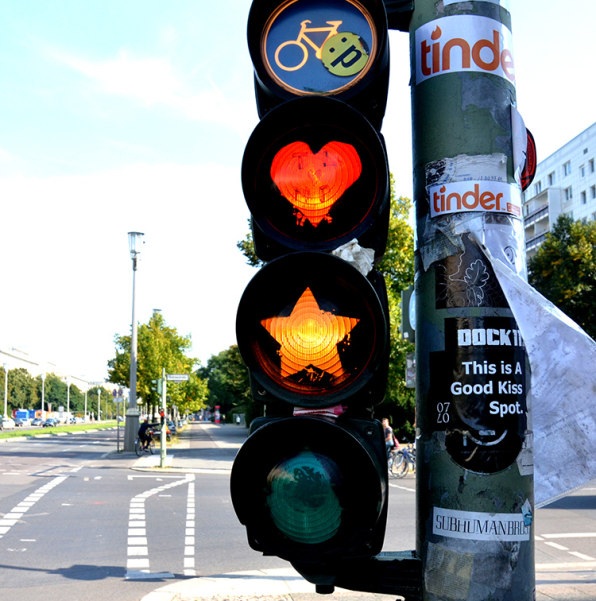 Often, the stickers are posted in romantic locations. They can be found on the walls of the Coliseum in Rome, on benches in Rockefeller Center in New York City, or on a pier outside the Opera House in Sydney. But you are just as likely to find a "This Is a Good Kiss Spot" sticker on a stop sign, on the front window of a VW van, or even on a fire hydrant.
"When you want to kiss someone, when you're in love with them, the perfect kiss doesn't have to be at some romantic, picturesque place," says Pacifici. "It can be in the middle of the street, in a traffic jam, or even next to a garbage can."
Like a kiss itself, 0707's stickers are designed to be ephemeral, and impermanent. The average "This Is a Good Kiss Spot" sticker only stays up for a few days before it is removed, either by cleaners or by people who tear down the signs to keep for themselves. But, also like a kiss, it's the memory that is meant to linger.
"When I'm walking down the street in Rome, I'll often pass a spot and remember kissing someone there, and then I start to smile," says Pacifici. The idea behind 'This Is A Good Kiss Spot' is ultimately simple: to bring that smile to as many kissed lips as possible. Who can argue with that?