Depending upon who you are, you might characterize the World Series as one of a number of things. If you're not that into baseball, you might see it as a showdown between two teams of club-wielding barbarians. If you're a superfan like my girlfriend, you might earnestly characterize it as the Go of organized sports. But if you're a businessman, you'll see only money.
For good reason. As these interactive data visualizations put together by Bloomberg make clear, even a single baseball franchise is a multibillion-dollar-a-year business. In fact, the average value of a Major League Baseball team these days is $1 billion.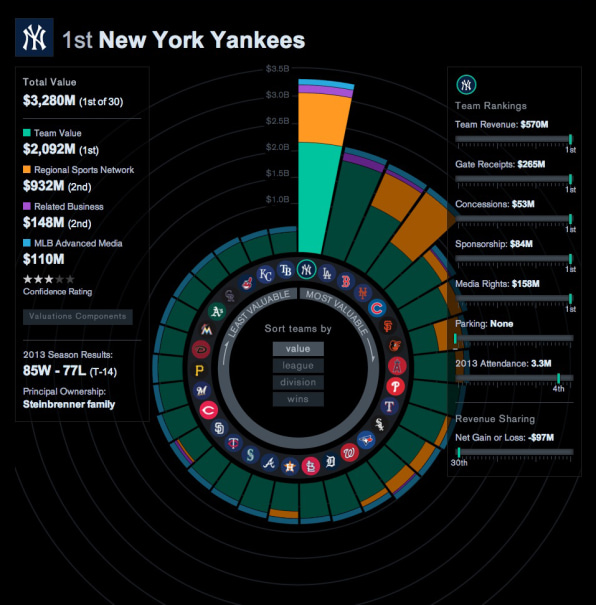 It wasn't always this way. In fact, just a year ago, the average estimated going price for a Major League Baseball team was less than $650 million. That all changed when Guggenheim Baseball Management bought the Los Angeles Dodgers for $2.15 billion in 2012, a price that Bloomberg characterizes as 54% more than prevailing estimates and 25% more than other bids for the team. If one team was worth so much more than Street estimates, Bloomberg thought, perhaps baseball as a whole is undervalued. The new service assigned itself the task of recalculating the value of every baseball team–from the New York Yankees and the Boston Red Sox, all the way to the Kansas City Royals and the Tampa Bay Rays–and adjusting teams' values accordingly.
The result? These pretty data visualizations, which are a fantastic and intuitive way of breaking down how much a team is worth by league, division, or number of wins, and comparing it to other teams. For the most part, and as you'd expect, the teams with the biggest brand presence tend to have the most valuable clubs. The Yankees, Dodgers, Red Sox, Mets, and Cubs are all in the top five.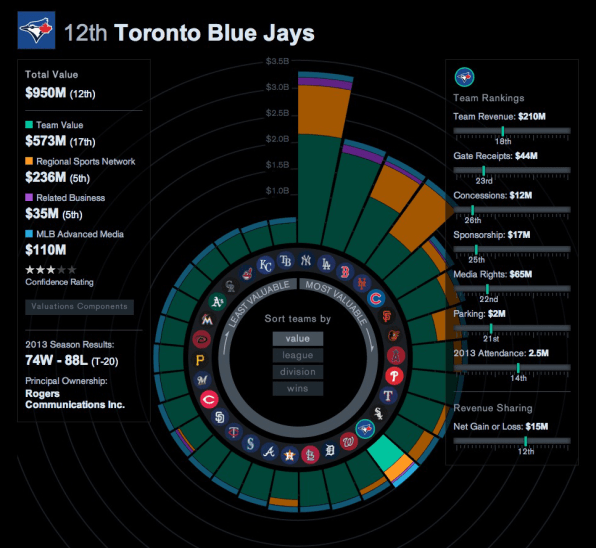 Intriguingly, though, there's not much of a correlation between number of wins and market value. The Cardinals, for example, might be in the World Series, but they are worth a mere $805 million. That's almost identical to the value of the team with the least number of wins in Major League Baseball, the Houston Astros. And compared to the $2 billion value of their World Series nemesis, the Boston Red Sox, the competition isn't even close.
Likewise, the most valuable teams tend to all be clustered in the same geographic areas. The National League and American League East have most of the highest-earning teams, followed distantly by the National League West and American League West, and the abysmal National League and American League Central.
As orchestrated by Jeremy Diamond and David Ingold, of Bloomberg's data visualizations team, these infographics make it abundantly clear that the World Series isn't just about swinging for balls. It's about swinging for bucks. You can check it out for yourself here.