Depending on whom you ask, transportation's so-called "last mile" problem–how you get from your car to where you're going while guaranteeing your feet never actually touch the ground–is either an important one to solve or a sad dilemma of the chronically lazy.
Whether the challenge is legit or a scary social scenario out of Wall-E, Peter Treadway is intent on cracking it. Previously, the Los Angeles designer gave the world electro-rollerskates to zoom across that last mile. Now he's at it again with the Acton M Scooter, a compact electric model that folds down to the size of a wheeled carry-on bag.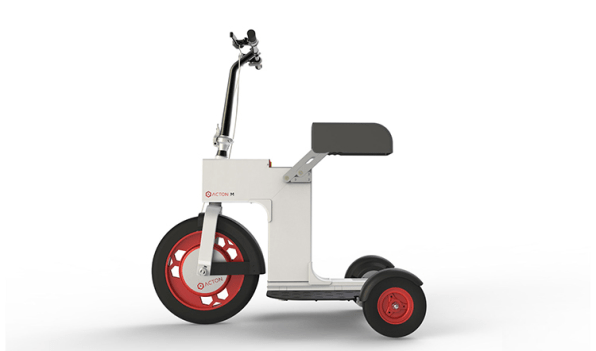 "While we were developing our skates, people contacted us who were looking for a scooter," Treadway tells Co.Design. Thinking it over, he realized that scooters have some advantages over skates. They're easier and less physically demanding to learn and ride, and you can use them to transport items like groceries.
But most of the electric scooters on the market were expensive or looked like medical devices. Plus, you usually can't use a scooter simply to supplement your commute; there's no stashing it away. In most cases, you have to make the entire trip on one, and then when you get to your destination, you have to park it outside. Treadway thought he could do better.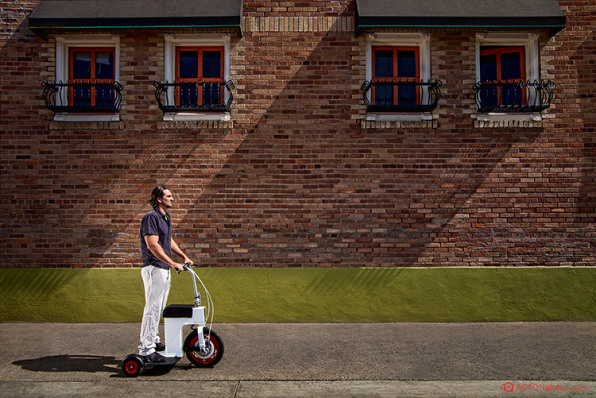 Enter the Acton M Scooter, which weighs only 70 pounds and is now available for $999 pre-order. The scooter, which can be ridden standing up or sitting down, isn't a speed demon–it maxes out at 12 miles per hour–but that's plenty, as it's not meant to be your go-to means of transport. It's small enough to easily load into your trunk and can range 15 miles on a single two-hour charge of its lithium-ion battery.
"Because it's so portable, the M Scooter opens up a major transportation bottleneck, allowing a commuter to take the scooter through the 'no trans land' of indoor spaces where vehicles aren't allowed," says Treadway. "Whether riding through the neighborhood, running errands at a nearby store, or driving to a big event, the M Scooter is so compact you can always have it with you.
The Acton M Scooter is currently on Kickstarter, having raised nearly $70,000 as of writing with a couple days to go.