150 years ago, in November of 1863, Abraham Lincoln made history with the Gettysburg Address, in which he reaffirmed the Constitution's "proposition that all men are created equal," and vowed "that government of the people, by the people, for the people shall not perish from the earth." But there was one thing the president got wrong that day: "The world will little note nor long remember what we say here," he said. That speech is now one of the most famous in history.
To celebrate the 150th Anniversary of the Gettysburg Address, designer Craig Welsh decided to bring these timeless words into people's daily lives. Through a Kickstarter campaign, Welsh successfully funded a "typographic letterpress celebration" of the address. He used his vintage letterpress to print a series of key lines from Lincoln's speech onto the covers of a series of Moleskine notebooks: "All Men Are Created Equal," and "Of the People," "By the People," "For the People." Welsh has also printed the entire address on a series of high-quality posters, using a copper plate to mimic 19th-century printing processes.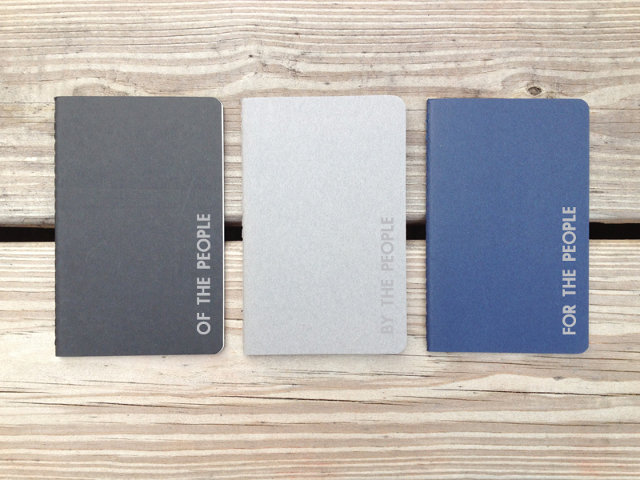 "The more time I spent researching Lincoln's address, the clearer it became that it's as relevant today as it was the day he delivered it," Welsh, the director of design firm Go Welsh, tells Co.Design. "I was compelled to try to share it in some way. My design studio has its own vintage letterpress print shop and that felt like an appropriate outlet in which to produce something that others may have interest in." To cover production costs, Welsh aimed to raise $1,863—after the year in which Lincoln gave his speech—but he's already raised nearly $23,000, and there are still three days left in his campaign. In his hand printing, metallic silver ink will be used on three notebook colors: Black, Civil War Blue, and Civil War Gray.
"I don't believe anyone on November 19, 1863, would have envisioned the full and lasting impact of Lincoln's words that day," Welsh tells Co.Design. "According to several reports, Lincoln's remarks were so brief that some in the audience did not realize that Lincoln had even delivered his address."
So, why notebooks? Why not tote bags or T-shirts or mugs? Welsh explained his choice to Co.Design: "The craft of handwriting is quickly fading as the world becomes more digitized. Notebooks encourage writing, doodling, and putting thoughts into a tangible form, in one's own hand. The Gettysburg Address was written by Lincoln. It wasn't typed. It wasn't projected via teleprompter. It was written. By hand. He considered each stroke as his hand put pen to paper. There's magic in the way we see individuals' personalities in their handwriting. Notebooks provide that opportunity."