London-based Polish artist Jan Manski's sculptures look like what might happen if your nightmares had nightmares themselves. A man with a horse's skull for a head sits in a wheelchair inside a cage; tentacles curl out of mouths; an issue of Marie Claire magazine mutates into a puddle of slime.
The latest additions to Manski's macabre universe is a series of sculpture, film, and collage pieces called Possesia, which are being showcased in a new exhibition at London's Breese Little Gallery starting February 27th. Possesia is the prequel to his series Onania, which was shown last year.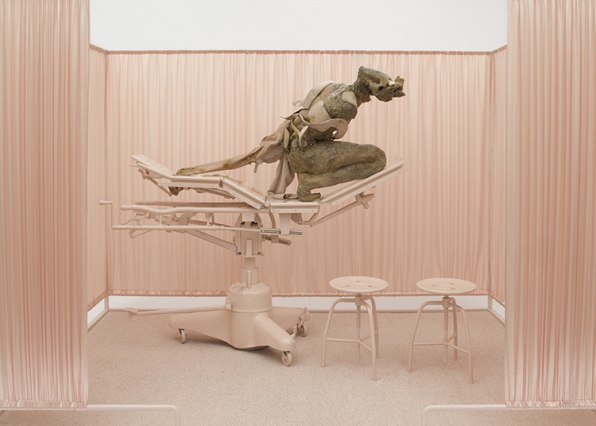 In Onania, beautiful fashionistas in pink tweed suits morph into diseased alien creatures. The series takes its name from the Biblical term for masturbation–in 1724, Onania became the title of a religious tract warning adolescents against "The Heinous Sin of Self-Pollution." In Onania, Manski likens our cultural obsession with beauty and plastic surgery to "self-pollution"–many of his pink-clad, mutilated mannequins sit in stylized surgeons' offices. Manski crafted these darkly funny pieces from actual liposuction fat, fur, animal bones, and cosmetics.
In Possesia, the humor is downplayed. This is a visceral commentary on the violence of World War I and these sculptures are often hard to stomach. The destruction that swept Europe 100 years ago left thousands of soldiers with grotesque disfigurements, and Manski recreates these tragedies through visual metaphor. He assembles roughly textured materials like fur, animal bones, soil, leather, antlers, rusted metal, and vintage mannequins into sculptures resembling stylized instruments of torture, mechanized human bodies, and casualties of war. Like German Expressionist Otto Dix before him, who painted marred WWI veterans in the Weimar Republic, Manski uses art to expose the absurdity of violence. By looking back on a cycle of destruction that happened a century ago, he offers a dark point of comparison for today's rampant warfare, reminding us that none of this is actually past.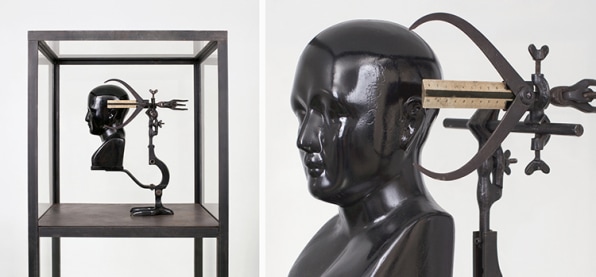 Manski, who was born in Warsaw in 1981, lives and works in London. He's in the process of creating the last series in this trilogy, called Eugenica, to be shown at Breese Little in 2015. Jan Manski: Possesia is on view at Breese Little Gallery in London from February 27th to April 12th.