Stock photography is often eye-rollingly awful, but is especially so when it features women. To wit, in 2007, Getty's top selling image of a woman featured her lounging around naked in bed, wrapped up in linens, gazing passively into the camera. Given that the financial and pharmaceutical industries are Getty's biggest buyers, and that most women don't actually lay around like bored trophy wives all day, this made little sense.
Which is why, for nearly a decade, Pam Grossman, director of visual trends at Getty, has been working on improving how women appear in imagery. So far, she says, it's working: "One of the biggest changes that we've found [in image sales] is a shift from a women looking like an accessory or an object to this really more empowered subject," she tells Co.Design. "Now they are on a train, going places, at work, engaged at work. They're not posing for the camera, because they're too busy."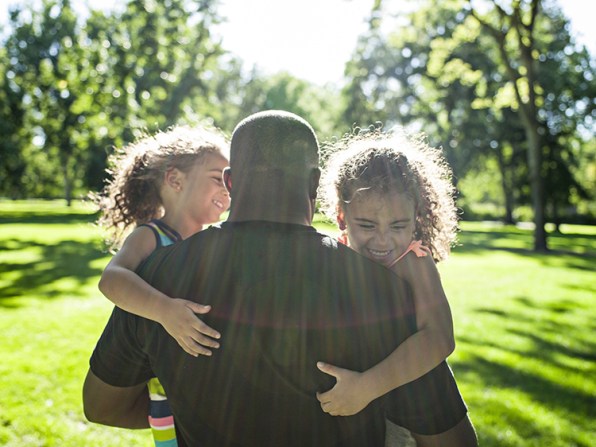 Getty–under Grossman's lead–has now partnered with Sheryl Sandberg's LeanIn.org to create a special library within Getty that prioritizes a more modern idea of feminism. This is the first time Getty has joined forces with a nonprofit, and so far, the collection of 2,500 images (Getty has 150 million images) echoes a lot of Sandberg's philosophies from Lean In. Click through the photos, and you'll see a more diverse sampling of women–all of whom look elegant and focused. And among the women surfing and the young girls skateboarding, there are also tattooed dads helping kids get ready for school, and men collaborating with women in studios, because part of the Lean In credo is that men ought to embrace female empowerment as well. "We're really trying to envision a more equal society," Grossman says.
The Lean In gallery expects to update on a monthly basis–something that Grossman says is challenging, because of the need for high-quality images. To create photographs that feel like authentic representations of how women live their lives, Getty is nixing the old all-white studio backdrops, and backing away from working with modeling agencies. Instead, they're sourcing real athletes and professionals, and even asking friends and families of photographers to pose. "It takes being really resourceful," Grossman says. "But if everyone in this industry is going to up their game, I think that's better for society."
View the Lean In collection, here.