Park and Slide is a new project on the crowdfunding site Spacehive, and it's getting us right in the mood for summer. Artist Luke Jerram is attempting to secure funding to make a 300-foot-long slip-n-slide right down Park Street in Bristol, a hilly city in southwest England.
Jerram sees the project as a way for the public to interact with a piece of art that exploits the natural contours of the city. And who doesn't love a water slide?
The goal is to shut down Park Street on May 4th, a Sunday. Jerram (and, presumably, some helpers, since it's kind of a big project) will construct the water slide out of plastic sheeting and hay-bales for support and padding. The slide itself will be free to use, and though it's not the world's longest (that'd be this one), it's still long enough for a great (and public!) slide.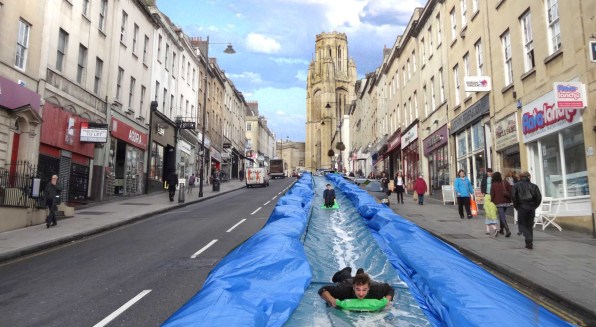 Park Street has been used for this kind of thing before; it's a very long and very straight and very steep hill (by Bristol standards), which has made it an ideal spot for past events like soapbox racing. Jerram and his team have already conducted a trial run, which seems to have gone well. "I like the way participants have a look of pleasure and fear in their eyes," he wrote about the trial. "They seem to slide in and out of control with their body and forces of gravity. Personally, I found the little adrenaline rush you get at the end quite addictive."
You can check out the funding site here; at the time of writing, the project has already secured about half of its stated £5,624 goal.