That last bit of toothpaste is the stubborn cousin of that last ounce of ketchup: You'll never get it out of the tube, no matter how much you squeeze and flatten the other end. Plus, as you curl the tube in futile attempts to do so, the resulting awkward shape makes it more and more difficult to store. That could all change with this student-designed, origami-inspired tube designed to extrude every drop of paste.
Colgate has been around since 1873, making it the oldest commercial toothpaste brand. Design student Nicole Pannuzzo decided she could do the brand's packaging one better. "I researched how many products were out there just to solve the problem of squeezing toothpaste out"–like these dorky Squeeze Ease Tube Squeezers–"and it just occurred to me, that we shouldn't be adding more products, but rather redesigning what we already have."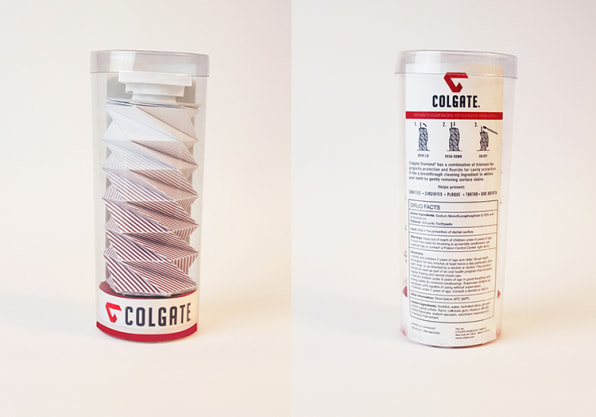 Pannuzzo's solution is a cylindrical, spiraling, origami-influenced bit of packaging. As the toothpaste gets used, the tube begins to collapse like an accordion, until it's as flat as a folded piece of a paper, and there's nowhere left for the toothpaste to go but out. To get the construction just right, Pannuzzo cycled through about 100 early prototypes. Her design is also freestanding, thanks to its flattop cap and canister shape, making it easier to leave out on the bathroom sink.
Pannuzzo, who's studying at Arizona State University, also put a new spin on the red-and-white Colgate logo. The current logo isn't visually offensive, she says, but it fails to communicate anything when stacked next to other brands that have a near-identical packaging formula: horizontal, white, sans serif type against a sparkling, splashy background. "If you look up their history, the original logo is based off of a ribbon, which I didn't get from their current packaging," Pannuzzo tells Co.Design. Her version re-purposes that strip of red behind the Colgate lettering into a folded, triangular ribbon icon.

It's in keeping with a growing roster of companies who are injecting some design cache into humdrum drugstore products. Pannuzzo is already fielding some early interest from Colgate's advertising team. Wouldn't the tube look great sitting next to your minimally designed shaving cream and sustainable condoms?