Snarkitecture, a collaborative art/design studio that mostly works with slightly skewed, broken-looking furniture and apparel, teamed up with Beats by Dre to create a special, limited-edition pair of Beats headphones. And not only do they look cool, they are all the more relevant now that Apple has purchased Beats.
The Beats x Snarkitecture headphones, a riff on the Beats Studio line, are pure white. "By stripping away the familiar colors and logos," says Snarkitecture, "the headphones are reduced to their purest form." (That still includes the lowercase B on the outside of the cups, because it is engraved into the plastic itself rather than painted on.) The cans also come with a "pillow," which appears a soft, pure-white pillow cradling the headphones, but is actually made of marble. It retains its shape after you lift the headphones off, because, well, it's made of marble.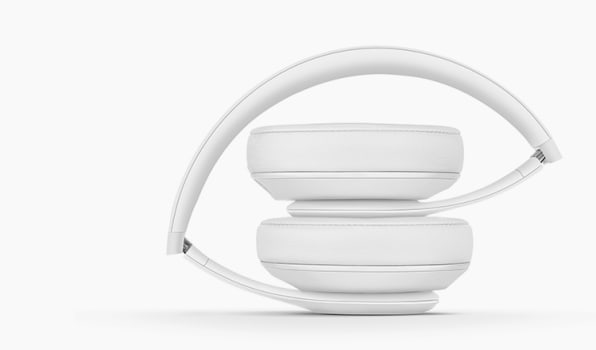 This collaboration, Beats x Snarkitecture, was created before the Apple acquisition of Beats was finalized, so the project has nothing to do with Apple. Beats products have long been designed by the design firm Ammunition, with input from Beats owners Dre and Jimmy Iovine. The particular style of Beats headphones, usually brightly colored shiny plastic, along with the lowercase B for a logo, is the product of that company.
But Beats parted ways with Ammunition once the Apple acquisition became official, bringing its future design direction into question. What will the future Beats look like? This pure-white, slightly quirky look of this design is not that different from Apple's design aesthetic. It's not a direct line from Beats x Snarkitecture to Beats x Apple, but it certainly gives us something to think about.
You can preorder them for $600 (significantly more than the non-Snarkitecture version, which cost $380) at Beats' site.DN