Earlier this year, the Bulletin of Atomic Scientists adjusted the Doomsday Clock–a measure of the current potential for global catastrophe–to just two-and-a-half minutes to midnight. It's the closest the clock has been to doomsday since 1953. While we mere plebeians are crossing our fingers and hoping for the best, monied preppers are busy getting Lasik, buying luxury condos in former missile silos, and ensuring the fuel tanks in their private helicopters are always full, as a recent New Yorker feature revealed.
But these high-end preppers might consider adding something else to their contingency plan: a heavy-duty, high-design tiny home from Bliss Mobil.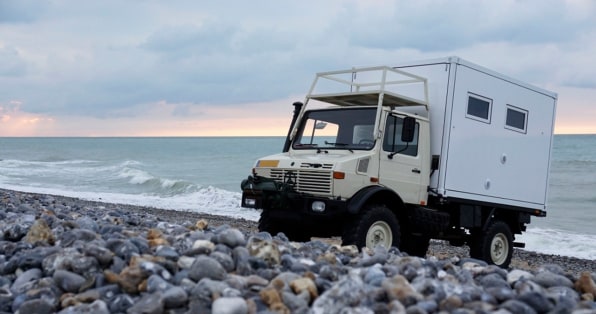 The company, which is based in the Netherlands, designs expedition vehicles. These aren't your run-of-the mill RVs; they're detachable steel-frame containers kitted out with luxurious amenities–Nespresso machines, sofas, wood cabinets–and hitched to four-wheel-drive, all-terrain, military-grade trucks. It's like Martha Stewart and Bear Grylls teamed up to create a vehicle for the survivalist who enjoys the finer things in life:
Our mission is to construct expedition vehicles with global and unrestricted qualifications to travel the extremes in absolute freedom. In our philosophy, true independence is defined by energy availability to run all essential functionalities without compromise. Furthermore, the large availability of clean water, as well as the safe storage of fresh food, enables traveling for extended periods.
Here are a few more of Bliss Mobil's bona fides: The walls are more than two inches thick and the units are guaranteed to be comfortable from -140 to 140 degrees Fahrenheit, thanks to aerogel insulation. They're outfitted with double-pane windows, and are equipped with a smart home system including infrared cameras that give inhabitants a 360-degree view of their surroundings. A combination of lithium batteries and solar panels power the onboard electronics and appliances, and there's a filtration system that can be used to purify water from lakes, rivers, streams, and rain collected on the vehicle's rooftop.
The vehicles range from a 20-foot model that can accommodate a family of four to an 11-foot model for two. They include a kitchen, bathroom, sofa area, storage, and a full bathroom with a shower and toilet. The actual living unit can be removed from the vehicle by crane and stationed independently.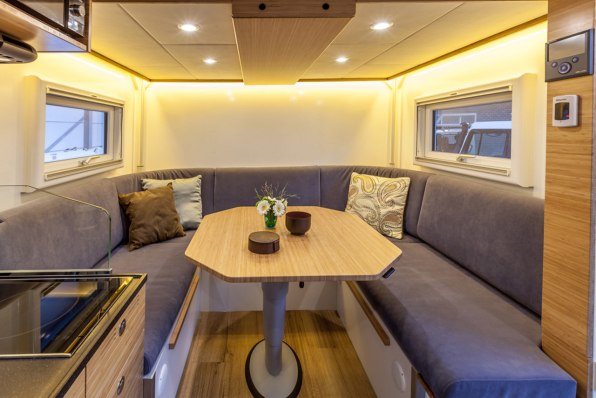 Of course, Bliss Mobil's current customers are mostly thrill seekers in their late 40s and early 50s who enjoy traveling to remote, beautiful places, says Marleen Hoex, who cofounded the company with her husband. The couple have traveled around the globe and came up for the concept when they weren't able to find a vehicle that met their needs. Since the company's founding in 2012, it's shipped units to Europe, China, Australia, Kazakhstan, South Africa, the United States, and Canada.
But with the ability to function off the grid, to travel through virtually any terrain, and to do it in comfort, Bliss Mobil seems like just the thing for doomsday preppers, though Hoex says they've yet to be discovered by them. "So far [we haven't sold to any] doomsday preppers, although we could see the market for this group," Hoex says. "We do have increasing interest on the website and information requests from [the] U.S. market–not sure this has to do with 2016 elections."
Perhaps those who feel a greater sense of urgency and uncertainty under the Trump administration are weighing their options.
[All Photos: via Bliss Mobil]